Scary Ghost Finder
Approved for Ages 6+
Scary Ghost Finder - outsmart the Ghost Hunter!    
Scary Ghost Finder is a cool Halloween game in which you'll be able to hide as a ghost from being discovered by people and overpower them from behind.     
You play a ghost in a room being searched by a ghost hunter with a flashlight. Escape the cone of light and collect the ghost points in the room without being detected. If you can sneak up behind the person and knock him over, you've won the level. In the next level, more furniture awaits you, behind which you can hide. But also more people, cameras and traps will appear and make life difficult for your ghost. Can you still hide well? Move the ghost by clicking or tapping the target point with the mouse or your finger on your smartphone.     
Watch out for the light! React quickly now and play Ghostbusters free online on Kibagames!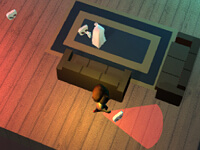 Scary Ghost Finder
Originalname:
Game Hits:
67
Online since:
30.
10. 2021
Developer: