Rowing 2 Sculls
Approved for all ages
Rowing 2 Sculls - win races in a rowing boat!
Rowing 2 Sculls is a new sports game in which you can compete in 12 fast races in a rowing boat.
Choose your team and you're ready to hit the lake! Row in pairs for victory and swing the oar by clicking or tapping when the rowboat reaches the green area. React at the right moment and let the boat glide elegantly and quickly through the water. Then quickly set a new best time and collect points by placing well in each level. Together, leave your opponents behind and face 12 races in the 2-person rower.
Now get to the paddle! Don't miss this unique new water sports game and play Rowing 2 Sculls free online on Kibagames!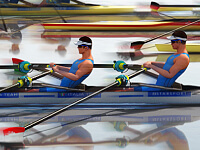 Rowing 2 Sculls
Originalname:
Game Hits:
65
Online since:
08.
01. 2022
Developer: