Rocket Stunt Cars
Approved for all ages
Rocket Stunt Cars - perform new stunts and driving maneuvers!
Rocket Stunt Cars is an exciting car game where you can prove yourself in different game environments like the stunt course or the city traffic!
Start in the desert and play with WASD or the arrow keys. With the spacebar you can brake. With C you can change the camera mode to have a better or more interesting view. Cockpit and exterior view are possible. Quickly try out the different game modes, face the heavy city traffic, jet over the highway or try out the stunt track. Special skill is required here, because your Rocket Stunt Cars are of course optimally tuned for these challenges. Let the race car fly over ramps, drive through tubes and kick up lots of dust!
Get excited about this new possibility to race and play Rocket Stunt Cars free online on Kibagames!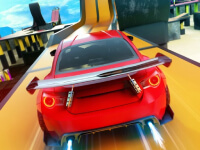 Rocket Stunt Cars
Originalname:
Game Hits:
476
Online since:
20.
01. 2022
Developer: