Rocket Cars Highway Race
Approved for Ages 6+
Rocket Cars Highway Race - race new cars on the highway!
Rocket Cars Highway Race is a wild car race in which you'll be able to compete with other vehicles on the highway.
First choose your race car and then plunge into the heavy traffic.
Play Rocket Cars Highway Race in three different game modes: one way with one lane, two way with two lanes, or against the clock in timer mode. 
In each mode, you can set a new track high score and earn some serious prize money to tune up your car even more or buy a new one. 
Then control with WASD and ignite the nitro with F. Use the spacebar to brake. With G you can honk and let other cars in front of you get out of the way, if you are lucky. A crash leads to the end of the game round. 
With C you can change the camera perspective. 
Don't let the dangers of the road stop you and overtake car after car. And you can also quickly cheat your way past the trucks and police cars.
Jump into new adventures behind the wheel now and play Rocket Cars Highway Race free online on Kibagames!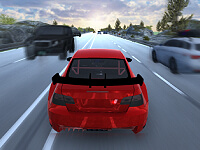 Rocket Cars Highway Race
Originalname:
Game Hits:
1.690
Online since:
25.
11. 2021
Developer: