Resize Mahjong
Approved for all ages
Resize Mahjong - combine big and small animal pairs!
Resize Mahjong is a cute brain game in which you can combine tiles of different sizes and full of cute animals.
Match two tiles with the same animals over and over again to take them out of the game. Stay within the time limit and win up to three stars with a quick pass. On the tiles in Resize Mahjong you'll find not only one animal, but several copies. Moreover, they come in different sizes, so look carefully.
Play with a total of 40 cute animals from all over the world such as elephants, penguins or rhinos but also domestic deer, pigs or mice. The tiles should always be free on at least one side so you can use them. If you ever run out of options, you can also shuffle and get hints in Resize Mahjong.
Let's go! Find the right pairs now and play Resize Mahjong free online on KibaGames!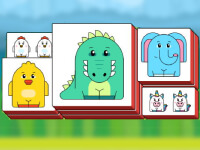 Resize Mahjong
Originalname:
Game Hits:
0
Online since:
01.
06. 2022
Developer: