Real Sports Flying Car 3D
Approved for all ages
Real Sports Flying Car 3D - fly through the air with your sports car!
Real Sports Flying Car 3D is a futuristic racing game in which you can complete exciting missions in a driving or flying sports car.
Why not take off with your car, it's possible in our online games! In Real Sports Flying Car 3D, use lots of hot sleds that can unfold wings and fly through the air when needed.
Control with WASD and let the flying car take off and land with F. Use the left shift key to ignite the nitro and pick up even more speed. Use P to pause and Esc if you want to use the cursor again. Then perform the best stunts in the air, fly over city and countryside, and of course use the classic driving options. You can perform missions to earn money for more supercars and upgrades, race or explore the open world. Many options in 3D provide long entertainment in hot sports cars, even without a driver's license!
Who needs a plane when you can have a flying car? Take to the skies now and play Real Sports Flying Car 3D free online on KibaGames!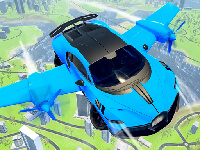 Real Sports Flying Car 3D
Originalname:
Game Hits:
0
Online since:
14.
07. 2022
Developer: