Rally Point 4
Approved for Ages 12+
Rally Point 4 - race through desert, snow and jungle!    
Rally Point 4 is a cool racing game in which you can race through the terrain with fast cars.     
Drive through desert, snowy landscape and jungle and face new epic races in the fourth part of the game series!  Control with WASD and the arrow keys and use Shift or X to drift. Use the spacebar or Z to ignite the nitro. There is even infinite nitro speed available in Rally Point 4, but be extra careful with this. If you use too much, the engine will overheat and your race car will explode! 
Drive around every obstacle on the off-road track and use the hints to steer in which direction, just like during a real rally. These cues Easy Left or Right, Medium Left or Right or Hard Left or Right translate that you should steer slightly, medium or hard to the left or right. They are given to the racer by his co-driver, who carries a terrain map and assists the driver by reading the map during the rally.     
Now win lots of challenges off the paved roads again and play 3D Rally 4 free online on Kibagames!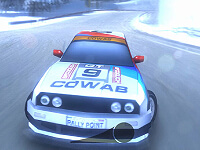 Rally Point 4
Originalname:
Game Hits:
758
Online since:
21.
10. 2021
Developer: