Rainbow Hashtag Challenge
Approved for all ages
Rainbow Hashtag Challenge - combine outfits in many bright colors!    
Rainbow Hashtag Challenge is a colorful fashion game in which you can combine outfits in all seven spectral colors and post them on Instagram under the respective hashtag.    
This Hashtag challenge calls for the seven colors of the rainbow: red, orange, yellow, blue, green, purple and indigo. They are created when white light is broken down into its individual parts, for example through a glass prism or when it rains and the sun shines at the same time. 
In this challenge, put together the best outfits of top and bottom as well as bag and hairstyle for each of the princesses and post the pictures of the outfits on Instagram. Match the colors to the looks and you'll get lots of likes and prize money to invest in new clothes. Can you find chic blouses, skirts or pants at a good price in the store? Click on them to buy them and style your model. After that, click the Instagram button to post the picture in the game and get a rating. Can you win this colorful contest? 
Style seven new looks now and play Rainbow Hashtag Challenge free online on KibaGames!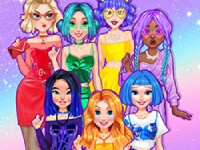 Rainbow Hashtag Challenge
Originalname:
Game Hits:
131
Online since:
24.
09. 2021
Developer: