Puzzle Parking 3D
Approved for all ages
Puzzle Parking 3D - park all the cars successfully!
Puzzle Parking 3D is a cool brain game in which you can park cars with the right moves.
Park the many cars in the different levels not only correctly, but also overcome many obstacles or complete additional tasks to win. Use the mouse or tap to control the parking space or an intermediate station. You'll then open barriers, operate a car wash, reverse parking and drive past an excavator without crashing. Manage two or three cars at a time and have them drive to their parking spot in the correct order. Make sure that the vehicles are parked in the desired direction and turn around on the playing field if necessary.
With logical thinking and the fun of parking, you're in the right place in this new parking game! Play Parking Puzzle 3D free online now on KibaGames!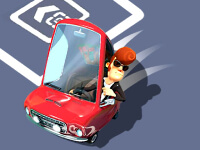 Puzzle Parking 3D
Originalname:
Game Hits:
0
Online since:
03.
05. 2022
Developer: