Pumpkin Muffins
Approved for all ages
Pumpkin Muffins - bake sweet Halloween treats!
Pumpkin Muffins is an autumnal cooking game in which you'll be able to try a new recipe for the little cakes together with Baby Hazel and her mom.
Baby Hazel's mom got the recipe for delicious pumpkin muffins from Baby Hazel's grandmother. Since the little girl is extremely fond of this sweet pastry, she asks her mom to bake her these muffins right away. With such big eyes, she can't say no, of course, and that's where you come in: Help Baby Hazel's mom bake the pumpkin muffins!
First of all, you need to mix together various ingredients for the basic batter. To do this, click on the different things like flour or eggs. Don't worry, Mama Hazel is there to help you and show you which ingredients to use and in what order. Note: Here you have to watch the time, so hurry up and don't dilly-dally for too long. In the next step, mix together the fruits that give the muffins their name: the pumpkins. Again, Mama Hazel will help you follow the correct order and mix the ingredients. The third step is to mix the two doughs together and, of course, bake them. Pay attention here to the time to set and that you need to let the dessert cool. And what are cupcakes without a suitable decoration? After all, the eye eats with you and so the last step is to decorate the muffins with sunflower seeds. Beautifully arranged they are then ready to be eaten. This tastes delicious!
More cooking games for autumn and Halloween
If you liked the game Pumpkin Muffins, then play Sisters Thanksgiving Dinner and Cooking Fast Halloween.
Get back to cooking and play Pumpkin Muffins online for free at KibaGames!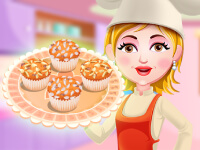 Pumpkin Muffins
Originalname:
Game Hits:
0
Online since:
28.
10. 2022
Developer: