Protect Emojis
Approved for Ages 6+
Protect Emojis - Protect the smileys from balls!
Protect Emojis is a cute brain game in which you can shield the little smileys from numerous ball attacks.
Use the mouse or swipe to draw a protective shield around the emojis before they get shot at from the ball cannon. The key is to create a stable shield that will stay in place. For example, if the smiley hangs under the ceiling and the balls shoot from below, you need to get the shield attached somehow. I'm sure you can think of something.
Draw the lines carefully and try again if you don't succeed on the first try. Win up to three stars and play through many levels with different obstacles and more and more pipes from which balls come flying. Starting from level 5, you'll also have to protect more smileys.
Become the protector of the smileys now and play Protect Emojis free online on KibaGames!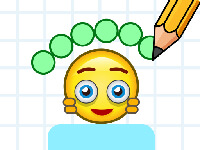 Protect Emojis
Originalname:
Game Hits:
0
Online since:
19.
07. 2022
Developer: