Princess Save the Planet
Approved for all ages
Princess Save The Planet - collect trash with the princesses!
Princess Save The Planet is a fun lifestyle game in which you'll be able to contribute to environmental protection with three friends and style them as Eco Warriors.
Environmental pollution caused by garbage is a big problem! Go against it with the three princesses and collect lots of trash on the beach and in the forest. Not only can animals and plants be harmed by the plastic and metal parts, microplastic particles also get into human food via soil and water. It is therefore better to recycle the waste as a valuable material and continue to use the materials in the circular economy. The motto is: reduce, reuse, recycle!
After cleaning up, you can decorate the beach and the clearing with shells, mushrooms and flowers. Not only that, style the three friends afterwards and decide if you'd rather dress them in T-shirts with sustainability slogans or another pretty outfit. A message about environmental protection also looks good on the jute bag.
Go for it! Save a little piece of the planet now and play Princess Save The Planet free online on KibaGames!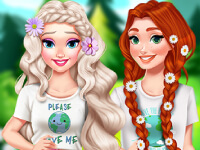 Princess Save the Planet
Originalname:
Game Hits:
0
Online since:
10.
07. 2022
Developer: