Pretty Pixie
Approved for all ages
Pretty Pixie - Style a little fantasy creature!
Pretty Pixie is a cute lifestyle game where you can create a little forest spirit from scratch!
Create your own little fairy! First choose what you want the pretty creature's face to look like. Decide on the eyes, nose, mouth, hair colour and hairstyle. Then you can customise the clothes. You can choose elegant silk fabrics that cover the fairy airily, or you can choose clothes with a flower design, as if the fairy had sewn the clothes out of flowers herself. You are free to choose the colours. You can choose from tops, skirts, shoes and leggings. You can also use additional accessories made of vines or flowers that the fairy has found in the fields. In comparison, the pretty fairy really is as small as Thumbelina.
Of course, there is also a large selection of fairy wings in classic form or as a butterfly. Finally, decide on a background for your pretty fairy and use similar motifs for different seasons.
Shortcuts in the navigation: The B in the lower left corner jumps to the backgrounds. Once there, the 1 jumps to page 1.
More romantic dress-up games
If you liked Pretty Pixie, why not try Turn Me Into A Fairy too?
Take advantage of a large selection of beautiful, imaginative pictures and play Pretty Fairy free online on KibaGames!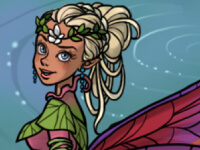 Pretty Pixie
Originalname:
Game Hits:
1.068
Online since:
27.
01. 2023
Developer: