Pop Blocks
Approved for all ages
Pop Blocks - Click away the cat blocks!
Pop Blocks is a cute block removal game in which you can accompany a little cat through many levels and click away blocks with food and toys.
Click away at least two blocks of the same color and complete the level objectives, where you can collect a certain number of blocks of one color or unlock toys for your cat. In later levels you should remove more obstacles.
The more blocks of the same color you can clear with one click, the better. If you even manage to combine five blocks of one color, you can get a rocket wild card. The rocket shoots horizontally or vertically across the board, depending on the direction, and clears tiles in the row or column. If you manage to clear six to nine tiles of the same color, you get the bomb. This bomb destroys tiles in its vicinity with its explosion. If you clear ten tiles, you get a colorful pinwheel, which allows you to remove all tiles of the same color from the board at once. This is a really powerful booster!
You only have a certain number of moves you are allowed to use per level. Stay below that to win a lot of bonus points at the end and boost your high score. Tools are also unlocked as you play. Use the hammer, for example, which can break away a stone. If you run out of moves, you can buy five new moves with the coins you've won so far. Will you reach your goal in Pop Blocks?
More puzzle games with cute animals
If you liked Pop Blocks, why don't you play The Sea Rush?
Don't miss the online game of the app and play Pop Blocks free online on KibaGames! As always, play without downloading!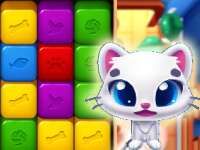 Pop Blocks
Originalname:
Game Hits:
0
Online since:
12.
11. 2022
Developer: