Plushie Doctor
Approved for all ages
Plushie Doctor - doctor up injured stuffed animals!
Plushie Doctor is a cute children's game in which you can doctor and style battered cuddly toys.
Such a cuddly toy goes through quite a lot! Playing and loving put the teddy bears, rabbits and other animals made of plush quite badly. Here is a tear in the fur and there falls out a button eye. Time for the plush doctor! Revive the badly damaged plush animals and choose your animal patient first. Then wash and clean the plush animal, provide it with new stuffing and sew up the tears in the fur. The button eyes can also be quickly reattached.
After Teddy and Co. are whole again, you can style them as you like, change their facial expressions or give them a new color or new ears. Afterwards, decorate them with pretty jewelry, a hat or a unicorn and give them back to their children.
Save the damaged toy now and play Plushie Doctor free online on Kibagames!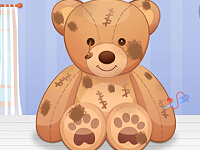 Plushie Doctor
Originalname:
Game Hits:
122
Online since:
09.
01. 2022
Developer: