Plug Run Race
Approved for all ages
Plug Run Race - win the plug race!
Plug Run Race is a fast-paced mini-game in which you can run with a plug-headed man through a course full of sockets and obstacles.
Your goal is to win the race and be the first to plug the character into the last outlet. Click or tap and hold to run and release the mouse or screen at the right moment to wait in front of obstacles, flying hammers or spinning sockets. React at the right moment and plug into the rotating sockets to be carried a bit further and continue running. Then buy your plughead new skins regularly to have even more fun with different attachments and keep facing new plug races!
This runner is energized! Let the energy flow now and play Plug Run Race free online on KibaGames!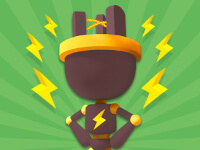 Plug Run Race
Originalname:
Game Hits:
0
Online since:
08.
03. 2022
Developer: