Pirate Treasure Hook
Approved for all ages
Pirate Treasure Hook - cast the fishing rod from the pirate ship!
Pirate Treasure Hook is a fun skill game where you can pull lots of valuable items out of the water onto your ship and win numerous levels.
All the pirate treasure has gone overboard and needs to be collected again! Click or tap to cast the fishing rod and hopefully pull the right items out of the water. Aim for the valuable jewels, trinkets, coins and other treasures and drag them onto your pirate ship. Depending on the size and value of the material, such as gold or silver, they will earn you coins that are important for achieving the level objectives. 
Garbage and bones, of course, you want to have on your fishing hook. But of course, also pay attention to the time and achieve the required amount of winnings within the time limit!
Tips and tricks - how to fish successfully
Buy and use the following boosters between levels to achieve your treasure fishing goals even better:
the strength booster, with which you increase the pulling power of your fishing rod
the bomb, which allows you to destroy useless objects on your fishing hook
the bag that doubles your bonus
jewels that double your jewel bonus
the glass bottle with silver that doubles your silver winnings
Let's go, little buccaneer! Don't miss these gifts of the sea and play Pirate Treasure Hook free online on Kibagames!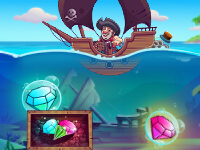 Pirate Treasure Hook
Originalname:
Game Hits:
73
Online since:
15.
01. 2022
Developer: