Pengu Slide
Approved for all ages
Pengu Slide - Let the penguin slide!
Pengu Slide is a new quick reaction game where you can make a little penguin slide over the ice to a new high score!
Make the penguin slide over sticks and stones, jump as far as possible and escape the snow avalanche! Keep the mouse button pressed to keep the penguin on the ground. If you let go on a hill, your penguin will fly further or jump easily to another hill. Collect points in the form of fish along the way, or grab the shell power-up that accelerates you and lets you fly on almost like a rocket. Step on the gas at the right moment, race down the icy hills and escape the snow avalanche behind you!
Will especially please fans of the iOS app Tiny Wings and anyone who used to enjoy playing the flash game Dillo Hills.
More action-packed penguin games
If you liked Pengu Slide, you should also try Penguin Bounce!
Set a new high score on ice and snow now and play Pengu Slide free online on KibaGames!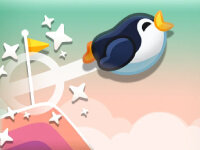 Pengu Slide
Originalname:
Game Hits:
0
Online since:
11.
03. 2023
Developer: