Parkour Block 4
Approved for all ages
Parkour Block 4 - the pixel competition goes into a new round!
Parkour Block 4 is a cool jump and run game in which you can run and jump through many new levels with the well-known pixel man.
In the fourth part of the popular game series you can expect numerous new adventures and level designs. Run with WASD and jump with the spacebar. You can run with the left shift key. If you want to return to the menu, just press Esc. Now fight your way through many new challenges in the popular Minecraft look. Escape rising lava and not only get carried away by the speedrun mode, but also test your skills in the hardcore mode.
How fast can you jump over the pixel blocks? Take the legs in your hands now and play Parkour Block 4 free online on KibaGames!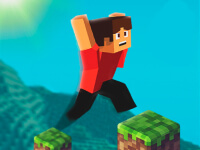 Parkour Block 4
Originalname:
Game Hits:
0
Online since:
05.
07. 2022
Developer: