Parkour Block 3
Approved for all ages
Parkour Block 3 - experience new adventures in the Minecraft world!
Parkour Block 3 is an exciting jump and run game, in which you can experience new adventures in the popular Minecraft environment.
In the third part of the popular game series you can expect many new levels and additional game mechanics that your Minecraft character can use. Run as usual with WASD and jump with the spacebar. Start in an underground room full of lava and find the right path through numerous dungeons. You can run fast with the shift key. On the smartphone, touch buttons are at your disposal. Then quickly collect the numerous resources, find the level exit and overcome all the obstacles in the familiar pixel world. If you like Minecraft aesthetics, but feel like more action and movement instead of building and collecting, Parkour Block 3 is the game for you!
Let's go! Now swing the shovel on your back, run and jump from platform to platform and play Parkour Block 3 free online on Kibagames!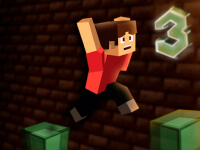 Parkour Block 3
Originalname:
Game Hits:
376
Online since:
23.
11. 2021
Developer: