Parking Man
Approved for all ages
Parking Man - fill the parking garage with cars!
Parking Man is a fun parking game in which you can drive numerous different vehicles into a spinning parking garage.
Click or tap at the right moment to let the cars, police cars or ambulances drive through the open barrier into the spinning parking garage. Fill up several floors without damaging the cars.
It is necessary to catch free parking spaces and complete the special tasks. Obstacles such as plants, signs and barriers sometimes block parking spaces and if a space is already occupied, of course you can't park a car there. However, you can also earn bonus points:  Place police cars on the spot where a policeman is standing or an ambulance near a paramedic.
Also, grab the bundles of money in the parking lots and keep unlocking new vehicles with good driving maneuvers and winnings. Make sure you don't crash, because you only have a certain number of keys, that is, lives, at your disposal. In Parking Man, you need especially good timing!
React at the right moment, park cleverly on several levels and play Parking Man free online on Kibagames!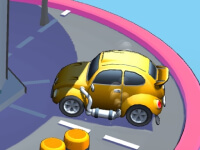 Parking Man
Originalname:
Game Hits:
233
Online since:
20.
12. 2021
Developer: