Panda Legend
Approved for Ages 6+
Panda Legend - Use the fighting power of the gems!
Panda Legend is an exciting mix of match 3 and fighting game where you can pit two pandas against each other with the right moves.
Let the pandas swing the sword!  The game is played with the finger or the mouse. At the top of the screen you will see your panda and a display of his life and mana bar. Here you can also see how many moves you can make on your turn. On the game board you will see different colored tiles. Connect at least three tiles of the same color here according to the Match 3 principle to achieve an effect.
The purple tiles with the flame trigger a magic attack.
The brown stones with the fist generate a physical attack.
The green stones replenish your life points.
The yellow stones with the drop give you mana points
You need mana points to perform attacks. If you don't have enough, your bear can't do anything. So proceed tactically and always pay attention to all relevant parameters to defeat your opponent. Besides, you'll have power-ups available, such as the hammer, which you can unlock and buy. There are also abilities that you can learn as your panda gets stronger.
More interesting fighting games for you
If you liked Panda Legend, why not also play Dinosaurs Merge Master.
Let the Chinese bears fight now and play Panda Legends free online on KibaGames!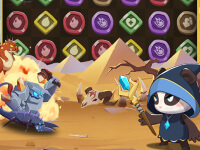 Panda Legend
Originalname:
Game Hits:
0
Online since:
28.
04. 2023
Developer: