Overloaded Bus
Approved for Ages 6+
Overloaded Bus - manage all the passengers!
Overloaded Bus is a cool skill game in which you load buses with the right number of passengers.
No passenger should be left behind! Click or tap and hold to get as many passengers as possible on the arriving bus. Let go when you think you have reached the optimal number of passengers. Make sure the bus doesn't get too full and overloaded, because then it will fall apart! But a bus that is too empty is also not efficient.
Divide the waiting passengers into several buses. Above you can see by the orange icos how many buses are available to you.
Even the most beautiful bus ride is over at some point. Therefore, in higher levels, let your passengers get off again. You have to make sure that they cross the street at the right moment and don't get hit by a car.
Of course, a bus ride is not free and different passengers will bring you different amounts of money in Overloaded Bus. So use your winnings to buy some new commuters and even transport superheroes like the Hulk or Captain America.
Now can you get the buses to the finish line without exploding? Match the right load and play Overloaded Bus free online on KibaGames!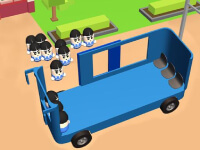 Overloaded Bus
Originalname:
Game Hits:
0
Online since:
27.
08. 2022
Developer: