Open Restaurant
Approved for all ages
Open Restaurant - wait tables and serve as fast as you can!
Open Restaurant is a cool management game in which you'll have to manage a new restaurant and serve all customers as quickly as possible.
Your new gourmet temple is attracting its first guests! Fill the dining room with the new customers and make sure they are served quickly and carefully. Earn enough money to reach the next level and practice your time management skills.
How to play Open Restaurant: Tap or click on the menu card and find a free table for your guests. Tap or click to take the order. Then click the kitchen, pick up the food and serve it. Collecting the money and cleaning the table after your guests have left comes last. Achieve the daily goals in each level and stay within the time limit.
Now get to work! Wait tables, serve like a pro and play Open Restaurant free online on KibaGames!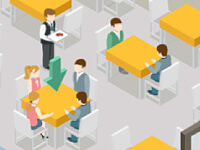 Open Restaurant
Originalname:
Game Hits:
1.901
Online since:
03.
10. 2021
Developer: