Om Nom Bounce
Approved for Ages 6+
Om Nom Bounce - shoot Om Nom's enemies!
Om Nom Bounce is a fun skill game where you can make Om Nom shoot balls at oncoming enemies.
Surely you remember the little green Om Nom from the Cut The Rope games? In Om Nom Bounce, take on a horde of nasty enemies with your little friend and pelt them with Om Nom's beloved candies and other candy balls.
How to play Om Nom Bounce
Aim and shoot your balls at the approaching enemies using the mouse or your fingers on the touch screen. Tap, hold and release to shoot. They must not reach Om Nom, because he also has only three lives!
Each enemy has a certain number of health points, which you should reduce to zero with your hits.
In each wave, you also have to kill a paint sprayer that wants to drench Om Nom with paint.
Keep the balls coming back to you and collect more ammo in each level, but also valuable items like treasure chests.
Equip Om Nom better and better and shoot whole volleys full of candies! They can also bounce off the walls of the battlefield and bounce back and forth between enemies.
Tips and tricks - use upgrades and boosters
You should regularly upgrade Om Nom's abilities or acquire boosters in order to win. For this you need won donuts and candies.
Upgrade damage points, health points and life points in the talent menu.
Also earn opportunities here to become even better in combat and, for example, get two shots instead of one or do double damage.
You can also buy boosters in the store, but these are only available in higher levels. Om Nom then rolls into the field, for example, to deal extreme damage and heal afterwards.
In the photo album you can create a collection of Om Nom's friends hiding in the levels.
More free skill games for good shooters
If you liked Om Nom Bounce, why don't you play Balls and Bricks based on the same game principle?
40 levels of adventure await you in four exciting game environments! What are you waiting for, let the balls bounce and play Om Nom Bounce online for free on KibaGames!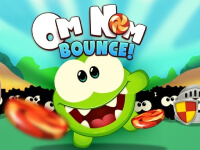 Om Nom Bounce
Originalname:
Game Hits:
0
Online since:
14.
06. 2022
Developer: