Nonogram Jigsaw
Approved for all ages
Nonogram Jigsaw - unlock puzzle pieces with number puzzles!
Nonogram Jigsaw is a fun puzzle game in which you can solve the popular Japanese number puzzles to unlock new pieces for a big puzzle.
Solve the nonograms and find a unique picture behind each of them. But each nonogram is also a puzzle piece for a big, colorful picture. There's a party picture to fill in, as well as a jungle adventure snapshot and a sea of flowers. With a little savvy, you can find the right number combinations in the Japanese puzzles and master the weekly quests, too!
How to play Nonogram Jigsaw
Start with easy levels and unlock harder and harder tasks. The Nonogram gameplay works as follows:
On the left and upper side of a square with 8x8 squares you will find numbers. They indicate how many squares have to be clicked and marked.
They also indicate how many squares together must form a chain.
Example: In 3 2, three marked squares and two marked squares must be next to each other. You have to figure out which ones they are.
Empty fields are automatically marked with crosses by the game. If you want to make it a bit harder, you can change the mode and set the crosses yourself.
Tips and tricks for Nonogram Jigsaw
A few basic game strategies will help you as much as coins and diamonds:
Start with the rows and columns where it's obvious where you need to place marks. For example, this is the case when all eight fields are to be filled in. Then work your way forward from this basis.
If you do need a hint from the game itself, you can buy it with your earned coins and a row or column will be filled in automatically.
More free puzzle games with number combinations
If you liked Nonogram Jigsaw, why not play 2048: X2 Merge Blocks or the classic Asian Riddles.
Unlock many beautiful pictures in this new math game now and play Nonogram Jigsaw free online on KibaGames!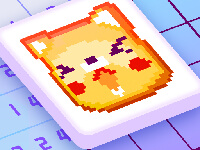 Nonogram Jigsaw
Originalname:
Game Hits:
0
Online since:
21.
08. 2022
Developer: