Ninja Slicer
Approved for Ages 6+
Ninja Slicer - cut the grass with a katana!
Ninja Slicer is a relaxing brain game in which you'll be able to cut away the grass in a maze with a Japanese longsword.
In this game, the top trained ninja devotes himself to a peaceful task for once: he has to cut the grass in a maze with his sharp katana. Play with WASD or the arrow keys on your PC or your finger on your smartphone or tablet.  
Always find the right way through the grass maze and avoid all obstacles. The ninja can only run to the nearest wall and can't turn around first, so guide him in the right direction with each move. Collect jewels by successfully completing the levels and use them to unlock new skins for your cutting tool.
More interesting maze games
If you liked Ninja Slicer, why not play MineCaves 2?
Cut the path now and play Ninja Slicer free online on KibaGames!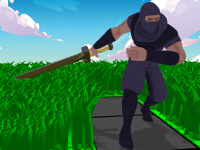 Ninja Slicer
Originalname:
Game Hits:
0
Online since:
13.
02. 2023
Developer: