Neon Tower
Approved for all ages
Neon Tower - Jump to a new high score!
Neon Tower is a new skill game where you can make a ball jump from a luminous tower to a new high score.
Try to make the ball jump down as many levels as possible by using the rotating screw. Avoid the red obstacles, otherwise the game is over. You can rotate the tower with the mouse, the keyboard or your fingers. The more levels you can jump at once, the bigger the bonus you get for the jump. Due to the force of the fall, it can even happen that your ball destroys plates while decelerating. How far can you jump through the Neon Tower?
More fast-paced skill games for you
If you liked Neon Tower, you should also try Helix Jump.
Turn the tower at the right moment and play Neon Tower free online at KibaGames!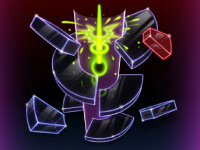 Neon Tower
Originalname:
Game Hits:
0
Online since:
06.
03. 2023
Developer: