My Perfect Lemonade Stand
Approved for all ages
My Perfect Lemonade Stand - sell refreshing soft drinks!
My Perfect Lemonade Stand is a cute lifestyle game in which you'll be able to run your own stand selling the sweet summer drink.
Lemonade is quick to make and tastes especially good in warm temperatures. In the first level, build and decorate your own lemonade stand from white or colorful wooden crates. Decorations and functional elements like a sign and a roof are available in a large selection.
Then, in the second level, mix all the necessary ingredients for the first delicious soda. This includes sparkling water, ice cubes, lemon slices, ginger, honey and fresh mint. Sugar, of course, should not be missing either. Turn on the blender and make your first guest happy. Many more customers will follow!
In the next level section you can choose a suitable glass for the sparkling soft drink and decorate it with a straw, colorful stars, fruits and umbrellas. In the third level follows a lemon strawberry lemonade with vanilla. Your customers will also be impressed by a bright green kiwi lemonade. Cassis lemonade with blueberries and raspberries also tastes good. And how about a multivitamin lemonade with lots of fruits and carrots? Take all the orders and make your lemonade stand a success!
Mix delicious fruit drinks now and play My Perfect Lemonade Stand free online on KibaGames!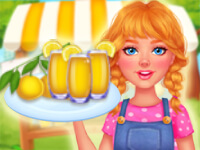 My Perfect Lemonade Stand
Originalname:
Game Hits:
0
Online since:
29.
06. 2022
Developer: