My Perfect Hair Salon
Approved for all ages
My Perfect Hair Salon - Style three pretty heads!
My Perfect Hair Salon is a cool lifestyle game in which you'll be able to style and do the hair of three customers according to their wishes.
In your hair salon, three young women are waiting to put their hair in your capable hands. All three of them have different wishes about how their new hairstyle should look like, but the preparation for the haircut or styling is the same for all of them. You wash the hair with water and a special hair soap, rinse it and blow dry it.
The first customer wants a new haircut, so you pick up the scissors and start cutting. After you fulfill this first request, you can color the hair and weave in accessories. The second and third clients just want their hair styled. After washing, you can start laying and braiding the hair. When the hairstyle is in place, you can also give it a new shade and braid in accessories or use it as an extra hold for braids or curls. I wonder if your clients are happy with their new hairstyle?
More beautiful hairdressing games for you
If you liked My Perfect Hair Salon, why not play Crazy Fantasy Hair Salon?
Grab your comb, scissors and hair dryer now and play My Perfect Hair Salon free online on KibaGames!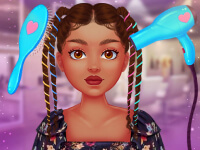 My Perfect Hair Salon
Originalname:
Game Hits:
0
Online since:
25.
01. 2023
Developer: