My Idol Dressup Diary
Approved for all ages
My Idol Dressup Diary - style cute K-Pop singers!
My Idol Dressup Diary is a creative dress up game where you can style your favorite K-Pop star as a manga character.
Style your own K-Pop star based on the likes of Jimin, V and Jung Kook! Of course, if you don't care about BTS, you can also create your own avatar. Choose the skin color of your idol, give him cute or cheeky facial features and style his hair and hair color. Then you can put together a trendy outfit and combine pants, T-shirts, shirts and shoes. You can accessorize your BTS star with headbands or a hat, as well as a necklace, headphones or a fanny pack. Use the pink stop button to put things back into the selection.
Style your favorite singers and dancers now and play My Idol Dressup Diary free online on KibaGames!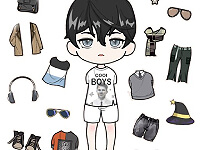 My Idol Dressup Diary
Originalname:
Game Hits:
0
Online since:
20.
03. 2022
Developer: