Monkey Happy Stage 720
Approved for all ages
Monkey Happy Stage 720 - Go to the Wax Museum!
Monkey Happy Stage 720 is a new mini-game where you can bring the figures in a wax museum to life!
At night, everything comes to life not only in the museum, but also in the wax museum! This time the monkey puzzle is all about stars and wax figures. Some monkeys visit the museum where wax figures of famous Hollywood stars like Arnold Schwarzenegger, Keanu Reeves or Tom Cruise are exhibited. Visitors to the museum have all sorts of wishes that you should fulfill again. Solve puzzles, crack codes and combine found ornaments to fulfill all wishes. Once you've done that, the wax figures will suddenly come to life!
Can you wake up all the characters and make your monkey dance? Find out now and play Monkey Happy Stage 720 free online on KibaGames!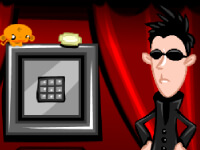 Monkey Happy Stage 720
Originalname:
Game Hits:
0
Online since:
30.
03. 2023
Developer: