Monkey Happy Stage 718
Approved for all ages
Monkey Happy Stage 718 - Let's go to Gravity Falls!
Monkey Happy Stage 718 is a cool new mini-game where you can solve puzzles related to the animated series "Gravity Falls".
For fans of Disney's "Gravity Falls" this Monkey Happy Stage is sure to be extra exciting! The Monkey Happy version of the popular animated series also features the Pines twins, who are just as inquisitive here. But they need your help. So collect clues, find objects and combine them to solve the puzzle. Maybe the famous museum of curiosities "Mystery Shack" will serve you as a clue for the puzzle. 
There are clues hidden everywhere and the lake could be cleaned up and objects fished out. There is also a huge gluttonous pelican waiting here. Can you help the monkeys and the pelican?
Don't miss this new guessing fun and play Monkey Happy Stage 718 free online on KibaGames!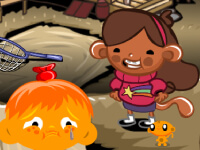 Monkey Happy Stage 718
Originalname:
Game Hits:
0
Online since:
23.
03. 2023
Developer: