Monkey Happy Stage 716
Approved for all ages
Monkey Happy Stage 716 - Prove yourself in the blizzard!
Monkey Happy Stage 716 is an exciting mini-game in which you'll be able to help two animal inhabitants during an icy snowstorm.
Solve puzzles, combine clues to come up with the right codes and make your monkey dance even in winter weather. Your knowledge of natural spectacles is also in demand: What are the northern lights called again in Latin? Give the polar bear a bucket full of fish to satisfy his hunger. The raccoon needs a parachute to get down from the icy mountain. Hopefully your brain cells aren't frozen, but solving the tricky math puzzles correctly should keep your brain on its toes!
A blizzard, northern lights and lots of guessing fun! Play Monkey Happy Stage 716 free online at KibaGames now!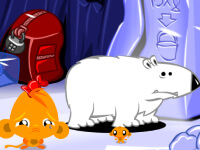 Monkey Happy Stage 716
Originalname:
Game Hits:
0
Online since:
16.
03. 2023
Developer: