Monkey Happy Stage 712
Approved for all ages
Monkey Happy Stage 712 - Save animals from a storm!
Monkey Happy Stage 712 is an exciting point and click adventure game in which you have to save animals from a hurricane!
A terrible storm is raging in New Zealand and three animals must be brought to safety from it. To do so, you must cross a raging river! In a tree that serves as a shelter, there are two monkeys who can help you build a bridge. Find the items they want and exchange them for something useful to build a suspension bridge over the raging river.
You should take a good look at the river anyway, because maybe the solution to part of the monkey puzzle is hidden there. At one point you are asked about a flightless bird from New Zealand. Its name is like a delicious fruit. Can you guess it?
Can you save the animals from the storm? Find out now and play Monkey Happy Stage 712 free online on KibaGames!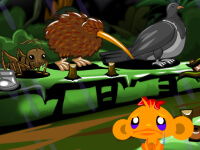 Monkey Happy Stage 712
Originalname:
Game Hits:
0
Online since:
02.
03. 2023
Developer: