Monkey Happy Stage 708
Approved for all ages
Monkey Happy Stage 708 - puzzle fun in the Asian steppe!
Monkey Happy Stage 708 is a new mini-game in which you can experience new adventures in Mongolia!
This time your monkey is in Mongolia and wants to help the inhabitants of the great Asian country. In the process, he even learns about the culture of the desert nomads. Again, items are sought to fulfill the wishes of the other monkeys. One monkey needs a bow with arrows, another wishes for a bucket of milk. Will the camel be able to help you? To pass the level, you'll have to discover codes and enter them correctly. You can also combine some items from your backpack. Can you help all the monkeys, build a tree house and solve the puzzles?
Meet the Mongolian monkeys from the Monkey Happy series now and play Monkey Happy Stage 708 free online on KibaGames!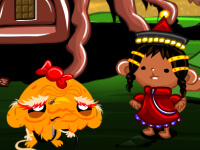 Monkey Happy Stage 708
Originalname:
Game Hits:
0
Online since:
09.
02. 2023
Developer: