Monkey Happy Stage 704
Approved for all ages
Monkey Happy Stage 704 - Party at the old people's home!
Monkey Happy Stage 704 is a new minigame where you can join the old monkeys for a party at the retirement home!
The senior monkeys are still in a good mood and want to have a party! But sometimes they still forget where they put one or another object.  Help them find their lost objects. So search for a pipe and reading glasses or a party hat or an important walker. This way you'll get closer and closer to solving the puzzle and finding out where the record is, so you can listen to the music from the old monkeys' childhood once again. Find the codes for the number combinations, combine the objects with each other and find the important keys.
Create a good mood in the animal senior residence now and play Monkey Happy Stage 704 free online on KibaGames!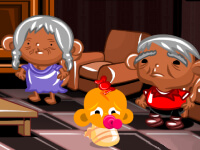 Monkey Happy Stage 704
Originalname:
Game Hits:
0
Online since:
26.
01. 2023
Developer: