Monkey Happy Stage 702
Approved for all ages
Monkey Happy Stage 702 - The cars are part of the solution!
Monkey Happy Stage 702 is a fast-paced mini-game where you can puzzle through tasks on the highway!
This time the monkeys are racing! There is a lot to do in four areas on the motorway. No matter how fast things go here, the monkeys need your help so that your monkey can do a happy dance again at the end of level 702. In this new level you also have to crack codes and distribute desired items to the other animals. Watch the cars on the opposite lane, because they are part of a solution. Also look at the cars on your side, because they have important information on their bodywork. Besides the monkey, you also want to help a raccoon in a racing car. Your monkey will only dance again when he can put his racing car in a truck.
Now combine all the clues again and play Monkey Happy Stage 702 free online on KibaGames!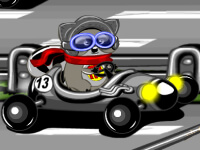 Monkey Happy Stage 702
Originalname:
Game Hits:
0
Online since:
19.
01. 2023
Developer: