Monkey Happy Stage 693
Approved for all ages
Monkey Happy Stage 693 - Find Santa!
Monkey Happy Stage 693 is a new Christmas mini-game where you can go in search of Santa in ten unique puzzle rooms!
Solve all the brainteasers to meet Santa at the end! To open the rooms, you can again combine lots of clues, crack codes and discover secrets! Many of the puzzles will be familiar from past monkey puzzles. For example, assemble a hammer to break the emergency glass window and get an important key. In another room it is important to know the cardinal points. The next puzzle makes it your task to translate Roman numerals. L = 50, X = 10, V = 5 and I = 1.
Can you crack all the puzzles and meet Santa and maybe even the Krampus? Find out now and play Monkey Happy Stage 693 free online on KibaGames!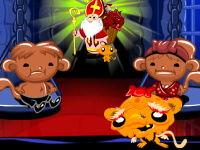 Monkey Happy Stage 693
Originalname:
Game Hits:
0
Online since:
22.
12. 2022
Developer: