Monkey Happy Stage 681
Approved for Ages 6+
| | | |
| --- | --- | --- |
| Hinweis: Wenn ihr Hilfe bei den Sprichwörtern braucht, schaut in den Beschreibungstext. | | |
Monkey Happy Stage 681 - How many lives does a cat have?
Monkey Happy Stage 681 is a new mini-game in which you can solve animal brainteasers and translate Roman numerals together with the monkeys.
In English, the cat has nine lives. In this monkey puzzle the monkeys want to find out if it is true that a cat really has nine lives. But before that you have to make desired objects and distribute them to the inhabitants. For example, one monkey girl wants a raincoat with a visor to protect herself from the rain. Another monkey wants an ice cream. To get the different wish items, you have to crack codes. You have to find a color code and use it to press the right buttons in the right order. If you can't find the code inside the house, maybe outside at the barn? Another puzzle requires knowledge of proverbs, which you then have to match to the correct picture. In addition, knowledge of Roman numerals is required.
The proverbs translate as follows:
1. an apple a day keeps the doctor away.
2. a picture is worth a thousand words.
3. every cloud has a silver lining.
4. do not judge a book by its cover.
5. hit dogs bark.
6. all that glitters is not gold.
Roman numerals are made up like this: I = 1, II = 2, III = 3, IV = 4, V= 5, VI = 6, VII = 7, VIII = 8, and IX = 9.
If you have combined everything correctly, nothing stands in the way of you and your experiment!
Now draw the right conclusions again and play Monkey Happy Stage 681 free online on KibaGames!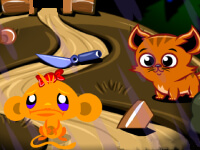 Monkey Happy Stage 681
Originalname:
Game Hits:
0
Online since:
10.
11. 2022
Developer: