Monkey Happy Stage 655
Approved for all ages
Monkey Happy Stage 655 - go to Myst Island!
Monkey Happy Stage 655 is a cool brain game in which you can make a satyr appear on an island and play the pan flute.
Come along to a mystical island and trigger the right chain reactions to make a satyr from Greek mythology play the pan flute at the end. Satyrs are hybrid creatures of humans and goats. The forest spirits often appear as companions of the god Dionysus, but he is not involved in this monkey puzzle. Can you still lure the satyr out by cleverly combining clues?
Play with the levers, gears and other machine parts on the island that you may know from the computer game Myst, which is also downloadable as an app today. Don't forget to collect the gems and strain your brain again to find the right solutions.
Get excited about this mix of retro game nostalgia and Greek mythology and play Monkey Happy Stage 655 free online on KibaGames!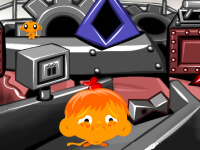 Monkey Happy Stage 655
Originalname:
Game Hits:
0
Online since:
11.
08. 2022
Developer: