Monkey Happy Stage 653
Approved for all ages
Monkey Happy Stage 653 - join the circus!
Monkey Happy Stage 653 is a cool puzzle game in which you can solve tasks with the circus monkeys this time.
Make your monkey laugh again and trigger the right chain reactions around the circus tent. Collect all kinds of items and put them together correctly. With some things like the candies or tools for tricks you can also win the circus performers for your cause. Find colorful hoops, stilts and balls to juggle and make sure that the circus performance can take place as planned.
Inside the tent, exciting tasks are also waiting for you. Enter the correct codes and use the Whac-A-Mole game principle. This is an old computer game and toy that monkeys also like to play. Moles that come out of holes are driven back into their holes with a hammer or keys.

Now find the right solutions again and play Monkey Happy Stage 653 free online on KibaGames!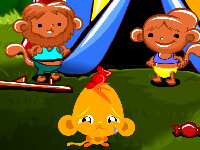 Monkey Happy Stage 653
Originalname:
Game Hits:
0
Online since:
04.
08. 2022
Developer: