Monkey Happy Stage 647
Approved for all ages
Monkey Happy Stage 647 - go on an educational trip!
The little Go Happy monkey is visiting the USA and encounters a bill named "Bill" near Capitol Hill in Washington, where the United States Capitol stands. Known from the children's show "Schoolhouse Rock!" from the 70s, in this point and click puzzle game you'll have to help Bill become a proper law.
To do this, solve all the tasks and bring the other visitors items such as a slide, a pen and clipboard, as well as a cap and a footbag. In return, they will help you as well. Also collect the banknotes, because without a bribe you don't seem to get very far here...
During your excursion, pay attention to the dates on the statues' pedestals - will you find the solution to the number code here?
Find and combine all the items and solve the puzzles to get the Bill on its way! Play Monkey Happy Stage 647 free online now on KibaGames!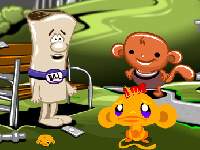 Monkey Happy Stage 647
Originalname:
Game Hits:
0
Online since:
14.
07. 2022
Developer: