Monkey Happy Stage 643
Approved for all ages
Monkey Happy Stage 64 - find the solution in art class!
Monkey Happy Stage 64 is a fun brain game in which you'll be able to help a boy in art class who can draw the future.
This new monkey puzzle is based on the story of a boy from the 1980s who can apparently draw the future. Whenever he makes a drawing, events seem to come true. Needless to say, these are not good conditions for art class. Help your little friend and your monkey solve the mystery. The other kids will definitely help you too if you get them 20 pens, 3D glasses and music yourself. Time and dates play a special role in this level and color codes are also important to keep in mind again. Pay attention to the clock - P.M. refers to the time in the afternoon.
Find out the right solution again and play Monkey Happy Stage 64 free online on KibaGames!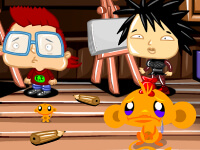 Monkey Happy Stage 643
Originalname:
Game Hits:
0
Online since:
30.
06. 2022
Developer: