Monkey Happy Stage 641
Approved for all ages
Monkey Happy Stage 641 - Brain teaser with The Three Stooges!
Monkey Happy Stage 641 is a fun mini-game where you can crack puzzles with The Three Stooges.
As always, your goal is to make your monkey laugh by solving the puzzle. Let the three Monkey Stooges help you in this task. The American comedy troupe was famous for its physical slapstick and appeared in various short films with a changing cast from 1925 to 1970. In 2012, there was a modern remake. Bring the three Monkey-Stooges various gardening and work tools that you hope they won't get into mischief with. In return, get clues and find out the code to open the door of the log cabin. Collect all the necessary information and items and use them at the right moment.
Experience top class puzzle fun again and play Monkey Happy Stage 641 free online on KibaGames!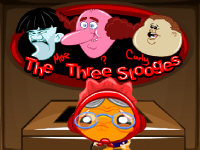 Monkey Happy Stage 641
Originalname:
Game Hits:
0
Online since:
23.
06. 2022
Developer: