Monkey Happy Stage 637
Approved for all ages
Monkey Happy Stage 637 - capture a Roman fort with Asterix and Obelix!
Monkey Happy Stage 637 is a cool brain game in which you can capture a Roman fort with Asterix, Obelix and Dogmatix.
With a little bit of brains and of course the bear powers of the old Gauls, this mission can succeed. Crack the puzzle and secure the help of the famous comic characters by bringing Asterix his helmet and Obelix a wild boar. Dogmatix would like to have 20 chewing bones as a reward for his assistance. Of course, to overcome the wooden fortifications, you'll have to complete other tasks. For example, crack a safe again and operate a catapult. Use your brain, explore all the corners of the funny mini-game and draw the right conclusions to make your monkey laugh.
Can you defeat the Romans with the help of your Gallic friends? Find out now and play Monkey Happy Stage 637 free online on KibaGames!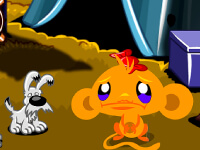 Monkey Happy Stage 637
Originalname:
Game Hits:
0
Online since:
09.
06. 2022
Developer: