Monkey Happy Stage 633
Approved for all ages
Monkey Happy Stage 633 - play your way through the karate dojo!
Monkey Happy Stage 633 is a fun mini-game in which you'll be able to solve exciting puzzles in the dojo with various karate kid monkeys.
Meet the Karate Monkey and the Monkai from the karate series Cobra Kai and go with them to search for root vegetables and exotic fruits in the karate training room. Maybe you can also gather the traditional headbands and sticks for the Asian martial artists and in contrast you will get information to crack the puzzle.
With a good powers of deduction and eagle eyes, you're sure to notice the various other clues in the dojo. You should always pay attention to letter combinations and colors. Soon you will be able to crack every code and locker and make your monkey happy again.
Now combine all the clues again, find fruits and vegetables and play Monkey Happy Stage 633 free online on KibaGames!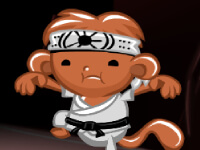 Monkey Happy Stage 633
Originalname:
Game Hits:
0
Online since:
26.
05. 2022
Developer: