Monkey Happy Stage 631
Approved for all ages
Monkey Happy Stage 631 - unravel the mysteries of Top Banana!
Monkey Happy Stage 631 is an exciting mini-game where you can solve all the mysteries with Monkey-Maverick and Pippi Longstocking.
This monkey puzzle is set on an aircraft carrier! Just in time for the new Top Gun movie, you can bring the Monkey variant of Maverick his helmet so he can take off in his fighter plane again. And popular children's book character Pippi Longstocking and a player from the shooter game ShootMania are also in on the action, demanding a pile of pancakes on the one hand and a futuristic weapon in exchange for information that will help you crack puzzles on the other. Can you assemble all the tools on the aircraft carrier correctly and trigger the various chain reactions? Then the many interesting characters will surely help you as well.
Meet lots of heroes and use your brain again! Play Monkey Happy Stage 631 free online on KibaGames!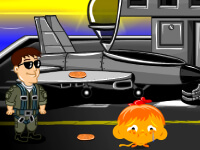 Monkey Happy Stage 631
Originalname:
Game Hits:
0
Online since:
19.
05. 2022
Developer: