Monkey Happy Stage 629
Approved for all ages
Monkey Happy Stage 629 - clean up the ocean with Captain Nemo!
Monkey Happy Stage 629 is a cool mini-game in which you can clean up the ocean from trash with the legendary submarine captain Nemo.
Too much garbage, mainly plastic, but also heavy metals, pollutes the oceans and is deposited in the sea creatures. Together with the hardworking monkeys and Captain Nemo, keep the sea clean and even go hunting for polluters. Nemo needs a remote control to steer his submarine and gripping arms. Can you find it? Combine all the clues with the sleuthing skills of a detective and also get help from underwater creatures like the octopus. Search behind each algae for its desired 20 oil spots and play with the mouse or by tapping.
Solve a new underwater puzzle now and play Monkey Happy Stage 629 free online on KibaGames!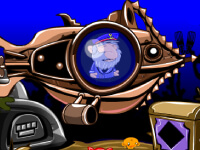 Monkey Happy Stage 629
Originalname:
Game Hits:
0
Online since:
12.
05. 2022
Developer: