Monkey Happy Stage 623
Approved for all ages
Monkey Happy Stage 623 - help the Easter Bunny!
Monkey Happy Stage 623 is a cute point'n'click game about Easter, in which you have to help the Easter Bunny and his friends!
The Easter bunny is hungry for chocolate, but unfortunately he forgot where he hid the delicious chocolate eggs. Help him and his little bunny friends by finding the chocolate eggs, coloring eggs and putting together a pretty Easter basket.  
While searching for the number codes, pay attention to the surroundings, for example, the lush grass. Once you've solved all the puzzles, you can hand over the eggs to the chief bunny and make the monkey laugh and dance.
And now, put your grey cells to work! Help the Easter Bunny satisfy his hunger for chocolate and play Monkey Happy Stage 623 free online on KibaGames!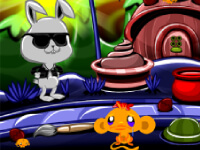 Monkey Happy Stage 623
Originalname:
Game Hits:
0
Online since:
21.
04. 2022
Developer: